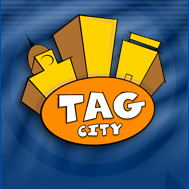 Population: 8,341
Out and About: 76
Most Popular Game
Butterfly Net: 18
Largest Prize Pool
Short Circuit: 50,000
Largest Win 24 Hrs
Traffic Chaos
christina1: 50,000
Most Recent FPB
Mel1: 4,665
Next FPB: 1,448


Free Addicting Games







Play a free online game at TAG City to win cash, points and prizes. Caution: these games are addicting! Access the free online games in TAG City via one of our Platinum members personal pages. Going through a Platinum members page is the only way to access our exclusive addicting online games.
Note: Some games are available for all TAG City members to play and others are only available for Gold or Platinum members who pay for their monthly membership. TAG City will try to add at least one new game to the site every few months.
TAG City Game Sponsors

4th Ace
35,815
Marilyn2

Butterfly Net
2,758
Cindy1 | Dolores1

Buzzing Bee
7,276
Dolores1

City Hall
43,239
Jeffrey1

Easy Royals
11,626
Dorothy1 | Bobbie1

Happy Snaps
490
Test1 | Platinum1

Headline Headache
1,205
Test1 | Platinum1 | John2

Kidnapped
1,862
Cindy1 | Dorothy1 | Dolores1

Loose Goose
1,413
Trish1

Short Circuit
50,000
John2 | Test1 | Trish1 | Platinum1

Silver Service
1,923
Trish1 | John2

Traffic Chaos
21,592
Marilyn2

Warehouse Rat Trap
14,527
Jeffrey1 | Marilyn2 | Bobbie1

Win Slot
50,000
Dorothy1 | Bobbie1

Word Scramble
68,419
Jeffrey1 | Cindy1
Other TAG City Games For Addicts
Get-A-Clue Word Game | Word Jumble Game | Online Sweepstakes Game | Stock Market Game | Strongman Game
Games Information
TAG City members can learn about games sites in a special article. Also see games and their history. For more information about TAG City plans, visit our future games description page.