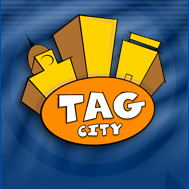 Free Addicting Games







Play a free online game at TAG City to win cash, points and prizes. Caution: these games are addicting! Access our free online games in TAG City via one of our Platinum members personal pages. Going through a Platinum members page is the only way to access our exclusive online games unless it is a sponsored game. Clicking on the image of a sponsored game will take you straight to the game.
Note: Some games are available for all TAG City members to play and others are only available for Gold or Platinum members. TAG City will try to add at least one new game to the site every few months.
TAG City Game Sponsors
Other TAG City Games For Addicts
Get-A-Clue Word Game | Word Jumble Game | Online Sweepstakes Game | Stock Market Game | Strongman Game
Games Information
TAG City members can learn about games sites in a special article. Also see games and their history. For more information about TAG City plans, visit our future games description page.