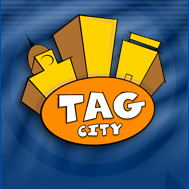 Tournament information is accessed through the CREATE, OPEN, COMING and CLOSED links at the top of this page.


Members who set up the tournaments are responsible for issuing prizes. Members are not permitted to offer cash, money or TAG points as prizes. TAG City makes no guarantee and accepts no responsibility if a member/sponsor fails to follow through and award tournament prizes.

Free Tournaments Online
You can win both money and/or prizes in the TAG City tournaments. Tournaments may be created for almost any game on this site. It costs nothing to participate in a tournament. Tournaments can be viewed via the tournaments link above but they are played from the games link.
TAG City members are able to participate in our free fast cash and prize tournaments. TAG City members are even able to create their own fast play tournaments on games of their choice.
Participating in a tournament is easy. Once the tournament has started, simply login to the game on which the tournament is being played. If you are eligible to participate in that tournament, you will be presented with a 'Play This Tournament' button. If you are not eligible to play in the tournament you will not see the button.
During tournament play a shield will appear on the game. The shield will display the number of spins or plays and the amount of points won. At the end of the fast play tournament, the member with the highest number of points won will be the cash or prize winner.
It's thanks to TAG City sponsors that we have so many wonderful prizes available. As the TAG City site grows, we will attempt to have more cash and fast play tournaments for members. We want as many cash winners on the site as possible.
IMPORTANT: Not all members are eligible to participate in every cash and prize tournament. Members who set up the tournaments decide who they will permit to play in the tournament.
When you win a prize or cash in our tournaments you can claim the prize from our prize claim page. Claiming tournament cash and prizes at TAG City is easy.
To create a fast play tournament check out the tournament info page.
More Tournament Information
Learn more about online tournaments and the history of tournaments.