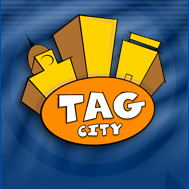 Population: 20,351
Out and About: 60
Most Popular Game
Earthquake: 5
Largest Prize Pool
Platinum Jackpot: 144,335
Largest Win 24 Hrs
Earthquake
elizabeth5: 50,000
Most Recent FPB
stephen1: 2,191
Next FPB: 625



Members should participate in tournaments because it's fun, it's free and there's sure to be some great prizes to be won. Members have nothing to lose by participating.

TAG City Tournaments
Gold and Platinum members are now able to set up their own tournaments at TAG City. Many TAG City games have been designed to allow tournament play. Tournaments may be set to allow all members to participate, or restrictions may be imposed to only allow certain members to participate.
Restrictions may be set to only allow Silver, Gold or Platinum members, members who have listed a certain other member as a referrer, members who use a special password, members who have purchased items through the auctions, members who are personally invited, or a mixture of any or all of these restrictions.
Creating Tournaments - Benefits
There's many valid reasons why you should create a tournament at TAG City. If you're an individual you can set up a tournament for a few invited friends. You don't have to even award any prizes. The prize for winning your tournament could be the prestige among the group of friends. You could make it a weekly event like a poker game. This would be a great way to keep in touch with family and friends from all over the world as a regular thing.
If you own a shop or business, running a tournament at TAG City will result in wonderful branding of your business name. It can also result in vast numbers of visitors to your site. To get started, simply create your tournament and offer some of your goods or services as prizes. Set your tournament so that a password is required by TAG City members to join your tournament. Place the password on your own site. TAG City members will have to visit your site to find the password to participate in the tournament. How simple is that? You will be able to tap into the entire TAG City population and have them visit your own site.
Sporting teams, charities and fund raising groups of all kinds have a reason for running a tournament at TAG City. These groups have need of money for uniforms, equipment, excursions and advertising. TAG City has need of new members. Groups have lots of members and access to many people. TAG City is willing in some circumstances to put up prize money for tournaments where the money goes to the fund raising group or organisation. There's two ways this can be done:
1. As an example, a ten pin bowling league may have between ten and twenty separate teams. These teams all agree to participate and promote a tournament at TAG City. As each player joins the tournament, he must nominate which team gets the prize money if he wins the tournament. So, the more players nominating a particular team, the more chance that team has of winning one of the cash prizes. The players have the fun of participating and the team gets the prize.
If TAG City offer a total of $1,000 prize money, and it is split as follows: (1st) $500, (2nd) $300, (3rd) $200, it's possible that the same team could win all three prizes and walk away with the total of $1,000 if they have enough tournament players nominating them and playing for them. The amount of prize money offered by TAG City would of course depend on how many total players participated in the tournament.
2. TAG City may be willing to sponsor sporting teams, charities and fund raising groups on the basis of $2 paid for each new member sent to TAG City to participate in a tournament. Continuing with our example of the ten pin bowling league, the league may put up a bowling ball as first prize for the player who wins the tournament. In return, TAG City would pay $2 for each and every participant in the tournament. It doesn't get any easier than this.
If you would like TAG City to sponsor your tournament with cash prizes, you MUST first get a written agreement from TAG City before proceeding. Make contact through the members area at TAG City. Write to John1 by clicking on the messages link. Provide details of what your group or organisation is. Also provide an estimate of the total number of people who will become free members of TAG City to participate in your tournament.