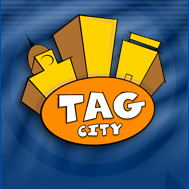 TAG City FAQ's
Please see if we have answered your questions on this Frequently Asked Questions page prior to contacting Trader Auction Games (TAG).
To learn why TAG City started and what the future plans are, visit our TAG City History page.
This FAQ page makes up part of the terms, rules and conditions for participating on the Trader Auction Games site. Please see our disclaimer and Terms and Conditions prior to signing up for ANY membership on the Trader Auction Games site.
Chat Features
Overview: Chat is provided on the Trader Auction Games site for all members. Chat can be accessed several ways. Site-wide chat appears in a chat box below almost every game on the site. Clicking on the chat link at the top of any page will take you to a chat access page. On the chat access page you will be given the choice of entering the Lobby, entering the Function Room or booking your own chat.
Games Chat: Chat with other members below the game while you play.
Lobby Chat: Allows you to chat with other members in the large Lobby chat window. Your chat conversation will also appear in the chat box below the games.
Function Room Chat: This is a sponsored chat event. Learn about services and products whilst chatting with business people who sponsor TAG City. Booking the Function Room is restricted to Gold and Platinum members.
Please be nice to all other members. Trader Auction Games is a community and we all have to get along. We do not EVER want to become involved in a 'he said, she said' argument about chat. Individual complaints about the conduct of another member will NOT be looked into unless multiple complaints from different members are received. If you don't like what is being said in chat our advice to you is to take a break for a while by closing the window.
Questions & Answers
Q. I am a Gold or Platinum member, can I do special promotional chats?
A. Yes. You can book our Conference Room for a 2 hour chat. It's free to book the Conference Room.
Contacting TAG City
Overview: As a result of email being lost or blocked by spam filters, Trader Auction Games has decided to do away with email as a form of contact. To replace email as a means of contact we have provided each of our members with a special contact section in their members area. From in there they are able to correspond with us in private and read our responses in private. This way there is always a record of what the member has written and what the TAG support person has responded with.
Questions & Answers
Q. I just signed up for membership and I'm having problems. Can someone help me?
A. At the bottom of most pages of the TAG City site you will find a help or support link. You can contact us via that link and we will do our best to sort your problems out.
Q. Am I able to contact other members at TAG City?
A. Yes. Simply login to your members area and click on the messages link. That will allow you to message other members. All you need to know is their TAG City member name.
Memberships
Overview: At Trader Auction Games we have three different types of membership. All members must sign up for a FREE Silver membership first and then they can upgrade to Gold or Platinum.
Questions & Answers
Q. How old do I have to be to become a member?
A. Trader Auction Games is an adult site. Persons wishing to obtain a membership must be over 18 years of age.
Q. Can I have more than one TAG City membership?
A. No. Multiple memberships opened by the same person may result in them being blocked from ever upgrading to a Gold or Platinum membership. Different people in the same household are permitted to each have a membership.
Q. I think I became a member but can't login and can't find my details when I use your password recovery page.
A. We have a program that deletes memberships if they are not used within 48 hours of being created. Most new members go straight to playing the games after signing up. We have found that new members who do not go straight to playing games have generally signed up incorrectly or have forgotten what information they used when they did sign up. By deleting their membership after 48 hours it removes any possibilities of them having problems if they try to sign up for membership again.
Silver Membership
Overview: A Silver membership is FREE. Silver members are limited in the games and other activities that they may participate in on the site. Silver members start out with 3,000 TAG points. Every thirty day period from when they first sign up, at the time they renew their membership, their TAG points will reset to 3,000 regardless of how many or how few points they have. If a Silver member has built his points balance to over 3,000 and wishes to keep all those points, he will need to upgrade his membership to Gold or Platinum.
Questions & Answers
Q. I am out of TAG points. How do I get more before my Silver membership has to be renewed?
A. Upgrade to a Gold or Platinum membership. This will open up more games and opportunities on the site. You can also purchase our Bottomless Points deal for only $4.95.
Gold Membership
Overview: A Gold membership has a value of USD$17.95 per month but is FREE for the asking if approved by a TAG City sponsor. Gold members are able to play all games on the site and participate in all activities including buying and selling items in the auctions, selling via our classified ads section, creating their own Blog and linking to other sites. Gold members start out with 6,000 TAG points. As long as they maintain their Gold status, the points balance will not reset each month. In fact, 6,000 additional points will be added to their balance each month.
Questions & Answers
Q. I am out of TAG points. How do I get more before my Gold membership has to be renewed?
A. For an additional USD$4.95 per month, Gold members can take advantage of our Bottomless Points deal. Each time their TAG points balance dips below 100, Gold members are able to claim additional points to keep playing. This means that they will never run out of points for the entire month. Points may only be claimed if the member doesn't have points locked away in an auction bid.
Claim Bottomless Points from the top right link in your members area or from the link above any game.
Platinum Membership
Overview: A Platinum membership opens up the entire TAG City site features. Site owners and businesses will gain much value from a Platinum Membership. It costs USD$49.95 per month.
Why is a Platinum membership so good?
A special game on each Platinum members personal page will cause Silver and Gold members to visit daily to play the game. Platinum members are able to set their personal TAG City members page to promote or sell their products or services.
In addition to having endless traffic to their personal promotional page at TAG City, Platinum members will be able to link to other sites, display banners at TAG City, issue news items to display throughout the site, hold their own promotional chats and much more. Platinum members are also able to grant Gold memberships to SIX other members each month.
For a reasonable additional fee, Platinum members can lease sponsorship of games on the TAG City site. Games sponsorship will result in having your business banner or logo appear over the top of your sponsored game. Each and every time a member logs in to play that game he or she will see your banner and have to close it or click through on it. As a game sponsor you will also be able to grant many more Gold memberships each month. As a reward for granting a Gold membership you will be able to ask several survey questions of each member who requests a Gold membership. Information is power. We are giving you the power to learn what potential customers want and expect from your business.
Questions & Answers
Q. I don't have a website of my own and I want to start a home based business. Can I start my business on my personal page at TAG City?
A. Yes, you are welcome to launch a business in TAG City. For $49.95 per month TAG City will allow you all the promotional opportunities described above for Platinum members (excluding game sponsorship).
Games
Overview: Most games on the Trader Auction Games site are straight forward and easy to play. Extra hints and information for each game will be found by mousing over certain sections of the game. Additional information is listed below the game.
Questions & Answers
Q. Why do the games take a long time to load when I first login?
A. The games at TAG City are non-download games. This means a lot of the information required to make the games work is installed on the games pages. This causes the game pages to be slow to load, but once they have loaded the games themselves should play quickly and without a problem.
Q. I won some Bonus Games on a game but I didn't get them. What happened to them?
A. There are two kinds of additional games to win while playing at TAG City. Bonus Games, which is what you won, are awarded on other games on the site. If you login to some of the games you will most likely find the game the Bonus Games were awarded to. Bonus Games are always played first when you login to play a game. The game won't cost you anything to play while you have Bonus Games available. Free Plays are different to Bonus Games. Free Plays are played on the same game they were won on.
Games Access
Overview: All TAG City games are accessed via the games listing page. Simply click on the image of the game of your choice to visit the page that that game is hosted on.
Questions & Answers
Q. Why do you only have a few games on the site?
A. TAG City is new and we are adding more games as quickly as we can. We plan to eventually have fifty or more games on the site.
Q. I can't remember my username and password?
A. Visit the Police Station at our site map at any time. That's what police are for - to help people. The police will direct you to our special password recovery page.
Game Problems
Overview: All members may issue an error report about a game if they encounter difficulties or problems.
Questions & Answers
Q. I log in but the site or page says "You are not logged on!"
A. You will need to activate your cookies for this site. We use cookies to determine if you are logged on or not. If you activate your cookies, then log on, the games will work and your experience will be much more enjoyable.
Q. The "Full Screen" game link doesn't work for me.
A. When you click Full Screen another window opens without all the normal Windows navigation aids at the top. This provides more area for you to actually play the games. If nothing happens when you click the Full Screen link, the most likely reason is that your browser is killing the new page before it displays. In this case the solution would be to adjust your browser setting so that it will allow new windows to be opened for the TAG City site.
Tournaments
Overview: TAG City members are able to participate in tournaments on many TAG City games. Restrictions do apply to participation in the tournaments and the restrictions are placed by the person or business who sets up the tournament.
There's two types of tournaments for members to particpate in. Individual player tournaments and TAG Team tournaments.
Questions & Answers
Q. Why should I participate as a player in a tournament?
A. Members should participate in tournaments because it's fun, it's free and there's sure to be some great prizes to be won. Members have nothing to lose by participating.
Q. What is a TAG Team and how do I join one?
A. A TAG Team is a group of between 4 and 7 members. You can create your own TAG Team and have other members join you. When you participate in a TAG Team tournament, the scores of all team members are added together to give a total score for the team. TAG Team tournaments usually have the best prizes.
Build your TAG Team from in your members only area.
Q. Why should I create or sponsor a tournament?
A. There's many valid reasons why you should create a tournament at TAG City. If you're an individual you can set up a tournament for a few invited friends. You don't have to even award any prizes. The prize for winning your tournament could be the prestige among the group of friends. You could make it a weekly event like a poker game. This would be a great way to keep in touch with family and friends from all over the world as a regular thing. See tournament benefits for further information.
Sponsorship
Overview: Sponsoring the Trader Auction Games site is a great way to expose your business to thousands of customers world-wide.
Questions & Answers
Q. How do I advertise on the TAG City site?
A. Advertising is as easy as signing up for a Silver membership and then upgrading it to a Platinum membership. It only costs USD$49.95 per month to reach thousands of customers. A Platinum membership will provide you with a personal page where you can promote your business to an instant flow of traffic. A Platinum membership is excellent value for businesses who are just starting up and need a lot of instant exposure.