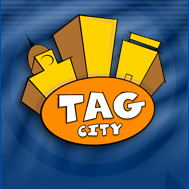 TAG City Planning & History
TAG City was built specifically to cater for the leisure time of its citizens. Wherever citizens turn in TAG City there's a game, competition, promotion or good deal being offered. There's something for everyone in TAG City.
The currency used in TAG City is TAG points. The goal of TAG City citizens is to build their wealth in TAG points so that they can purchase real world items, goods and services from the auctions. Yes, you get to buy real stuff with TAG points. Nothing could be more fun than that. Imagine buying goods, cash or a holiday with TAG points? It's well within your grasp when you become a Gold or Platinum member of TAG City.
Turn your unwanted household items into TAG points by selling them through the auction. Trade in the junk that is laying around your house for TAG points. Then use your TAG points to buy great sponsored items from the auctions.
Silver membership to TAG City is FREE. Silver membership doesn't open up all of the city though. To experience everything in the city you will need to upgrade your membership to Gold or Platinum. Upgrading to Gold is as simple as asking a game sponsor to grant you Gold membership. Upgrading to Platinum costs as little as $49.95 per month.
TAG City Plans
TAG City is a games and online auction site designed for an entire community of people who have similar interests.
Setting up the frame work to support the direction we wanted to take TAG City in was over a year in the making. There's so much that had to be done behind the scenes that players would never see or know about. Now that the frame work is in place we can forge ahead with adding new games and services to the TAG City site.
Following is a list of planned developments for TAG City:
Site-wide Chat: Members will be able to chat with each other while they play games on the TAG City site. Completed November, 2007 - TAG City Chat
Expert Forums: Members will be able to ask questions of sponsors about their products and services. Experts will answer questions to help members learn about what interests them. Completed August, 2007 - Shop / Sponsor Forums
TAG City Auction: The auction that is planned for the site will be up and running within a few weeks of site launch. Completed August, 2007 - TAG City Auctions
TAG Identity Page: TAG City members will be able to have their own page at TAG City for telling other members about themselves. Completed January, 2008 - My TAG Page
TAG Teams: Members of TAG City will be able to team together to play in tournaments. Completed November, 2007 - TAG Teams
Search: Members of TAG City will be able to search for items and comments in several different sections of the site. Completed February, 2008 - TAG Search
Prize Board: Members will win random chances to pick a prize from the TAG City prize board. Completed February, 2008 - Random Prize Draw - Sweepstakes
Games: The following games will be added to TAG City in an ongoing effort to expand the entertainment value of the site to our members:
4 Aces Up: This is a card game which has 30 Jackpots. Every player will win a prize on every play! This will be one of several tournament games at TAG City. Completed October, 2007 - 4th Ace
5 Minute Lotto: There's a lotto game every 5 minutes.
Beat The Clock Jumbled Word Game: The aim of the game is to present the player with the letters of a word all jumbled up and have the player unjumble the letters before the time expires on the clock. Completed June, 2007 - Headline Headache
Bonus Game Play Slot: This slot will allow the member to win plays of all other games on the site.
Bowling Bonus Slot: A mid priced version of the Buzzing Bee Bonus Slot.
Butterfly Bonus Slot: Cheaper version of the Buzzing Bee Bonus Slot. Completed December, 2007 - Butterfly Net Slot
Buzzing Bee Bonus Slot: Spin up 5 to 15 flowers to win TAG points. The Buzzing Bee on a flower doubles your win. First and last same reels will hold and respin the centre three reels. Bee hives trigger a bonus game. This will be one of several tournament games at TAG City. Completed November, 2007 - Buzzing Bee Slot
Catch A Cab: The idea is to catch a TAG City cab and travel as far down Main Street as the cab will go before it either runs out of fuel, breaks down or hits another vehicle at an intersection.
Criminal Gang: The Police Station will display several WANTED posters for members of a criminal gang.
Dice Game: The player throws three dice, for five rolls, the total thrown each time is progressively added up. The player has a chance of hitting a jackpot on each of his five rolls if the total thrown matches the total required to win the jackpot.
Easy Royals: This is a poker game played with a deck of only 20 cards. Completed November, 2007 - Easy Royals
Enemy Attack: This is a five reel slot with all wins paying left to right in any position (there are no lines) except for Red, White and Blue Jackpots and Scatters.
Gone To The Dogs: This is a dog racing game that will be situated adjacent to central park.
High/Low Card Game: Players have to decide if the next card will be higher or lower than the original card. The more successful decisions the player makes the higher the points jackpot he will win.
I've Been Robbed: Set in central park. The idea is to rob someone else by knocking them out of the game.
Library Game: This will be three games in one. The player will not know which game he is going to play until it is presented to him.
Loose Goose: The Goose is loose in central park and has laid her eggs in a nest. Completed December, 2007 - Loose Goose
Lost Combination: Officer Clueless has forgotten the combination to the safe in the police station.
Low Number Wins: The member who selects the lowest number that has not been selected by any other members is the winner.
Match Madness: Match Madness is nine different games all played with one click of the play button.
Match Prize Scratch Game: The game consists of 16 squares. There is a prize symbol behind each square.
Mega Themed Slot: This slot, once created, will be placed on the TAG site as several different themed slots.
Paddle Steamer Wheel: The game is an image of a Paddle Steamer with the wheel on the side of it.
Photo Match Skill Game: Players will be shown photos which they have to match to a country in a list. Completed June, 2007 - Happy Snaps
Pony Express Board Game: The less rolls of the dice it takes to have the Pony Express rider make a delivery the bigger the points prize won
Race To The Moon: This will be a three line five real slots with several feature games. Completed December, 2008 - Race To The Moon
Rat Trap: Players are provided with traps and rewarded with points for each rat trapped. Completed May, 2008 - Rat Trap
Restaurant: This is a simple game where the player is presented with a list of items found on a menu in a restaurant. Completed July, 2007 - Silver Service
Random Points Jackpot: There will be a site-wide Random Points Jackpot. Completed July, 2007 - FPB - Frequent Player Bonus
Robbery & Kidnapping: In this game the player helps police search a building for hidden loot and a kidnap victim. Completed September, 2007 - Kidnapped
Scratch Card: This game is based on the scratch cards that you can purchase from any lotto outlet.
Sharemarket: Shares in some of the games on the site will be sold to Gold and Platinum members. Completed October, 2007 - Share Trading
Site Name Game: Game consists of 24 squares with a heading above the squares of 'TRADER AUCTION GAMES'. Completed July, 2007 - Short Circuit
Strong Man: Just like at the old carnivals, the strong man will use a sledge hammer to try and ring the bell at the top of an upright pole. Completed June, 2008 - Strong Man
TAG City Board Game: Two dice will be rolled to determine how far the player moves each turn. Completed April, 2008 - City Hall Board Game
Tournaments: Most games on the TAG City site will be linked to tournaments. Completed September, 2007 - Tournaments
Tugboat Salvage: Two ships have collided at sea. They are both abandoned and adrift.
Wharf Fisherman: Members will be able to fish off the wharf down at the dockyards.
WIN Slot Machine: This is a three reel slot. Letters in the word WIN are the main symbols on this game. Completed September, 2007 - WIN Slot
Word Game: New letters will be exposed at intervals until a player correctly guesses what the word is. Completed January, 2008 - Get-A-Clue
City Council: At a later date, TAG City management will look at setting up voting for a city mayor and councillors on a monthly basis. The council will only be in place for a month at a time and be rewarded with TAG points for their service to the TAG City community. All Gold and Platinum members will have the opportunity to throw their hat in the ring and be voted in as mayor or a councillor.