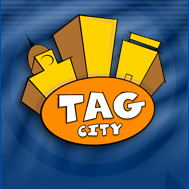 Please read the information below about share trading before proceeding.
Once you are logged in to the "Get" or "Put" page you will find helpful links at the top of the page.
Only GOLD and PLATINUM members may buy and/or sell shares. Shares owned by SILVER members will be purchased by the Company at 1 point per share. Shares owned by GOLD or PLATINUM members that are not currently financial (7 days or more overdue), will also be acquired by the company at 1 point each.

Share Trade Area
Show Market Indices displays the stock movements over the last 24 hours and the last week. Also shows the Price Earnings Ratio (PER) of traded stock when the dividend was issued.
Last dividend issued 0 4:10:33 ago.
TAG City Stock Exchange - Share Trading
Stock is available for purchase via a "Get" and sale via a "Put". Stock will be created in various TAG City Incorporated Companies.
Trading of shares costs 2% for each buy and each sell, this will be added to the purchase price and deducted from the points issued to the seller. Trading fees are credited directly to the TAG City Stock Exchanges own TAG points dividend pool. The more trades that take place the more profitable the Stock Exchange will become. The more profitable the Stock Exchange, the more TAG points available to distribute to the Exchanges own shareholders.
Shares in any of the TAG City Companies will see dividends issued to shareholders once each day. The dividends are generated from profits made by the Companies over that period of time. The amount of profit available for distribution to shareholders varies from game to game. One or two points are retained from every game play to pay dividends to shareholders. The points collected are saved in a shares dividend pool which is then evenly divided by the number of shares owned by TAG City members.
Any member may request the dividends be issued to all shareholders once the dividends are due.
Periodically, the directors of a TAG City Company may decide to release more shares in that company.
Individual members are limited in the overall number of shares they may own.