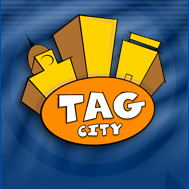 Find out more about the different classes of membership by clicking on the following links.


Check out a few of the things that have stirred the pot at TAG City over the years.

Members Testimonials
Jerry2
WOW, it can happen, check the Random Prize Draw whenever you are online!!!
I won $500 CASH! There are also other great prizes to be won in the Random Prize Draw and everyone can be a winner if you just continue checking the results at the easiest winning game on the Internet.
Thanks John for the best site that can be found on the Internet - TAG City.
Dolores1
I won $50 cash money from the Random Prize Draw at Tag City! Doin the happy dance to the theme from Rocky... Thanks so much!
Peter1
This site is the best I have ever belonged to.
I have won $100 by playing in a tournament. Got the money within a week. Won tons of stuff at auction and it didn't cost me a red cent. Have sold tons of stuff in the auctions too, and got more points to bid on more stuff in the auctions. When I sell stuff all I have to pay for is the postage, ONLY when I sell. Chicken feed for what you get back. It is so easy a child could do it. Just go to the auction centre. You can View, Sell or look at your own auctions. Selling is a breeze, all you do is fill out the form and you are good to go. Bidding is even easier.
I have been a member of many other game sites and not won one single thing and they weren't FREE. TAG is the growing place to be on the Internet.
Sandra10
TAG City is a new concept that offers entertainment along with auctions and tournaments. I won $75 in one tournament and an e-book in another. The money order was sent in just a few days and arrived two days later. There was never any doubt in my mind that I would receive my prizes as my previous experience is that the owner is honest and fair.
Michelle2
What a fantastic site! I have won numerous auctions. Everything from books to real gold jewellery. All without one dime coming out of my pocket. I also came in first place in a cash tournament for $150.00. I was paid within a weeks time by postal money order. I used to hate going to my mailbox. All I ever got was bills. lol Now I am darn near standing there waiting for my mailman to see what kind of goodies I got today. How exciting!
Deberah1
All I can say is WOW!!! Since becoming a member I have won in auctions or tourneys the following: a 14k gold pinky ring, a Mary Kay gift basket worth $120, Mary Kay cosmetics, a FoodTV cookbook, two DVD's, and $100 CASH that I am re-investing in gold memberships... oh, and all for FREE!!! Not even one cent for shipping!!! Kudos to you for a fabulous new site.
James1
I've been playing around in the auctions almost from the start and let me tell you, brother is it a lot of fun. I've sold several items and placed a lot of bids, and believe me, there are a LOT of items worth bidding on.
Two of the items I've won: a great collectable golf ball marker that was made in the 50's and a fantastic coffee table book on fishing in America. And the best thing is the cost - not a thing! That's right. I said nothing, nada, zilch. The only thing I had to shell out was my TAG points, and I have plenty of them having sold a pack of football cards (1990) and two Playstation 2 games.
Judy2
My freind and I are relatively new members on a recommendation from my friends sister. It is probably one of the nicest things she has done for us in years. We have had total enjoyment from the site with our winning a tournament recently. We love the site and look forward to your growth and I have made a point to recommend TAG to many of the folks I work with at school. We have just started bidding on items in the Auction area and look forward to bidding on many more.
Christy4
I recently became a gold member. I noticed there was an open tournament for the game Kidnapped. The game is a lot of fun especially when you find the criminal or the victim. When this FREE tournament was over, much to my surprise, I had won the 1st place prize of $100. I received the money order in 4 days.
I am telling everyone that will listen about this site. It is really too good to be true. Also, I have already won several auctions. All I had to do was bid points. There was nothing to buy - even included free shipping. I have won GG Points, DHEA supplements, necklace, 2008 Pocket Planner and am hoping to win the auction for $200 CASH that will be closing in a few weeks. Plus you can use your points to buy stock. I have already done this and sold some of it too. This site is awesome!
Jane2
TAG City is the greatest site ever. I love playing the games and going into the tournaments. I think my favorite place to be is the Auction Center. I have won a poker chip set, a new dog coat for my little dog, movies, a $90 set of Mary Kay products and more.
All you have to do is play some games, win some points, go to the auctions and bid and wait to see if you win the bidding. It's so exciting I can't wait to get home from work to see if I won. It doesn't cost you anything. The seller pays the shipping. How can you beat that? I now spend all of my spare time here at Trader Auction Games.
Frances2
I am crazy about Tag City! You can bid on various items the auctions using your TAG points. That's correct, no money but Tag points. In addition, one can participate in various FREE tournaments and win cash prizes. New members - be prepared to become addicted to this site.
Heidi2
I am so pleased to be a member at TAG City. I am just amazed at all the things you can do on this site. I have never been a "LUCKY" person on winning anything, and now I have won a $100 Tournament here at TAG City. I also won an Auction bid for the $200 prize that was placed in the Auction. I just could not believe winning that much money not once but twice, and I received the money orders within a week of winning each of them.
I have also won several other things from the free Auction and they were received in a short period of time. The items that I won from the Auction were all new things and it is so much fun bidding on things that you would never dream of seeing in a regular Public Auction. Well I don't really know that for a fact as I have never been to a Public Auction, and now, why would I when I can stay right here at home and do my own private bidding?
I have placed a lot of Jewellery in the Auction as I used to own a Boutique and Jewellery store, and I kept so much of the Jewellery that didn't sell when I closed the store down. Have I ever won a lot of points by placing these items in the Auction!
I just wish I could tell the world about what a great site TAG City is, and then they could have as much fun here as I do.
A very happy and satisfied member at TAG City.
Katherine1
I have only been a member of TAG City for just a little while, but it's a great place to play. The games r great and you can really win money which I think is a plus. Once you sign up and get to know your way around you'll love this site.
Mary2
This truly is a unique site. The Trader Auction Games are addicting and best of all you can use the points you win to bid on auctions. Everything from books to jewellery to you-name-it! You don't even have to pay the shipping charges.