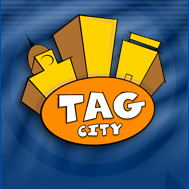 TAG Points
TAG points are a form of currency on the TAG City site. You use TAG points to pay for spins or plays of games as well as to place bids in the TAG City auctions.
8 Easy Ways To Gain More TAG Points
#1. Silver members are awarded 500 points just for logging in once a day. Gold members are awarded 1,000 points for logging in once a day. Platinum members are awarded 1,500 points for logging in once a day.
Tip: Silver members should upgrade to a Gold membership for FREE to double the daily free points allocation. Upgrade your membership here.
#2. Many TAG members have become points millionaires by selling their unwanted items through the TAG auctions. They then use those points to bid for bigger and better items including cash. Sell your unwanted items for TAG points now.
#3. When you have points to spare you should purchase shares in some of the more popular games on the site. Share holders are credited daily with a percentage of the points played on the games they held shares in for the previous 24 hours. This is a great way to gain points on a daily basis to keep you playing the TAG games.
#4. Play the Platinum Jackpot game every day at each TAG sponsor for the chance to win thousands of points. This is a free game to play and it may be accessed from a link on the games page.
#5. Check the Strongman game to see if you have unused vouchers available to play. You can win plays of Strongman whilst playing other games on the site. You may not have even realised that you have vouchers left to play.
#6. If you have made a purchase from a participating TAG City sponsor this month, lodge a claim for a Shoppers Raffle ticket with that sponsor. In addition to cash prizes there's many TAG points prizes to be won. This draw only happens in the first few days of the new month for tickets lodged in the previous month.
#7. Check the Random Prize Draw (Sweepstakes) every 2 hours to see if you have been drawn as a winner.
#8. As a last resort you may wish to purchase a Bottomless Points deal for $4.95. Once you have purchased Bottomless Points it's simply a case of topping up your points whenever you run out while playing a game. Purchase Bottomless Points from the Upgrade / Renew Membership section on the right of your members page.