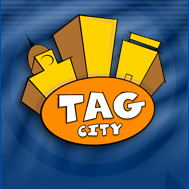 Free Online Games







Play a free online game at TAG City to win cash, points and prizes. Access the free online games in TAG City via one of our Platinum members personal pages. Going through a Platinum members page is the only way to access our exclusive games.
Meet Emily

Emily is the owner of Emily's Timeless Treasures. Emily is forever placing neat items in the TAG City online auctions for our members to bid on. You can visit Emily's personal TAG page here.

Use the points won from playing the TAG City games to bid for wonderful items in our free online auction. It's thanks to Emily and other sponsors like her that TAG City has so much to offer its members.
Note: Some games are available for all TAG City members to play and others are only available for Gold or Platinum members who pay for their monthly membership. TAG City will try to add at least one new game to the site every few months.
TAG City Game Sponsors

4th Ace
23,806
samantha6 | Loretta4 | Sharalyn1 | sue11 | emily5 | Kim6 | Susan2 | Shannon1

Butterfly Net
13,505
Bobbie1 | Eileen6 | Jeffrey1 | laura4 | Dori1 | Lee1 | Kim6 | Heidi1 | chris31 | Shannon1 | brittany4

Buzzing Bee
9,971
Sherry1 | samantha6 | LAURA2 | Bobbie1 | Loretta4 | laura4 | JMR1 | gary16 | Kay1 | Dori1 | Cher1 | sandy2 | Lee1 | Marilyn2 | Pamela6 | Shannon1 | brittany4

Easy Royals
22,243
Tina5 | Bobbie1 | samantha6 | LAURA2 | Lisa33 | Loretta4 | Sherri1 | Angie7 | JMR1 | gary16 | Sharalyn1 | sue11 | emily5 | Dori1 | Dorothy1 | David5 | Pamela6

Happy Snaps
207
stacey3 | Heidi1 | Platinum1

Headline Headache
575
John2 | Platinum1

Kidnapped
3,168
Sherry1 | Eileen6 | Tina5 | LAURA2 | Angie7 | Sherri1 | sue11 | emily5 | Cher1 | Diane1 | Dorothy1 | Jessica2 | chris31 | Jerry1 | Dolores1 | David5

Loose Goose
6,011
laura4 | Diane1 | Jessica2 | Jerry1

Short Circuit
1,676
John2 | Platinum1 | Dolores1

Silver Service
5,828
John2 | stacey3

Traffic Chaos
50,000
Dolores1 | Tina5 | Jeffrey1 | Lisa33 | Angie7 | Sherri1 | Kay1 | Sharalyn1 | stacey3 | Cher1 | Lee1 | Susan2 | Marilyn2 | chris31 | Jerry1 | Sherry1

Win Slot
41,448
Eileen6 | Jeffrey1 | brittany4 | Lisa33 | JMR1 | gary16 | Kay1 | sandy2 | Diane1 | Dorothy1 | Susan2 | Heidi1 | Kim6 | Jessica2 | Marilyn2 | Pamela6 | David5
Other TAG City Games
Get-A-Clue Word Game | Stock Market Game | Online Sweepstakes Game