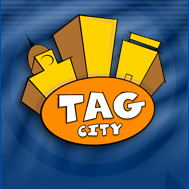 TAG City Administration
This is our administration and head office department. Please check here regularly for updates and time sensitive information about the TAG City site.

TAG City has been built specifically to cater for the leisure time of its citizens. Everywhere you turn in TAG City there's a game, competition, promotion or good deal being offered. Play our unique games, trade your points for great prizes, participate in our online auctions or promote your own business by becoming a Platinum member and having your own page like this.

Silver members have very limited features on their own page at TAG City. Gold members have a lot more features and are able to link to other sites. Platinum members can create their own virtual shop front to promote their business or products.

Other websites who are looking for links back to their own sites or pages should take advantage of our Gold membership. It's a great way to get links to your site and increase your link popularity for search engines like Google.
---
Important
The MY TAG PAGE section of TAG City where members get to add their own information is still under construction.

Once the section is completed members will be able to search on other members information and comments. Members will also be able to post Classified adverts and post links to other sites.

Please be patient while we work through this phase of the site extension program.
Views:63048 Score:212
Ratings
| | |
| --- | --- |
| | gwen1: makes me more interested in what i want to do |
| | |
| --- | --- |
| | Cindy1: nice clean page alot are cluttered |
| | |
| --- | --- |
| | Sharalyn1: Thank you for this example. I will be brainstorming how to set up my own Profile Page. |
| | |
| --- | --- |
| | John10: HI i used to run a web site selling yugioh cards but needed a break so been inactive for a few months 6 LOL anyway i like this site and the way its set up thanks for allowing me to be a part |
| | |
| --- | --- |
| | Lynda1: I've never had a site before but now that I have an idea what to do, I'm working on one now. |
| | |
| --- | --- |
| | Heidi2: I love the way the site is all coming together,sure will be glad when it gets completed-GO TAG CITY GO |
| | |
| --- | --- |
| | Heidi1: Hey john, DO you look at your members Tag pages? |
| | |
| --- | --- |
| | meki1: Looters RAAAAAAAAAAWWWK! |
| | |
| --- | --- |
| | Mary23: Everything will work out just fine with the site! |
| | |
| --- | --- |
| | Jamie1: OK John nice start keep it coming |
| | |
| --- | --- |
| | samantha6: I love the uniqueness of this site!! |
| | |
| --- | --- |
| | gail1: would have expected noless from you JOHN AWESOME!!!! |
| | |
| --- | --- |
| | john70: TAG City is great! I love it that Slotland is sponsoring my Gold membership. |
| | |
| --- | --- |
| | sharon15: Im still taking baby steps around here but i love it .. and spending $s at the shops .. GREAT!!! |
| | |
| --- | --- |
| | Nan4: Tag, Tag,YOU ROCK!!! Hi, John, nice page and it really looks good. |
| | |
| --- | --- |
| | Chris8: I love this site and the games are soo much fun |
| | |
| --- | --- |
| | MARGARET4: Thanks John, for both GoneGambling and Tag City and keeping it free as possible. |
| | |
| --- | --- |
| | Jim1: finally made the move from GG and now ALL my time is spent here! Saving up tourney cash wins to spend with as many sponsors as I can! |
| | |
| --- | --- |
| | Mostafa1: that is a great free to join website |
| | |
| --- | --- |
| | Leona2: awesome site ,love the games |
| | |
| --- | --- |
| | Janice25: Found This Site By Accident, Best Accident I EVER Had :) This Site & All the Hard work I see Has been put into it is AWESOME! |
| | |
| --- | --- |
| | wendy1: i am so glad i came back to this site having a lot of fun Thanks |
| | |
| --- | --- |
| | teresa40: Tag City Is What Gets My Mornings Going! Keep Up the GREAT Work E-1 :) And Thank You! |
| | |
| --- | --- |
| | Wanda22: Thank you John & the Tag City staff for all you do! |
---
My Friends
Jeffrey1
,
John1
,
Trish1
Direct reference to this page using the following text http://www.traderauctiongames.com/community/?id1=7